What are work gloves?
Work gloves are important types of personal protective equipment. They can help protect your hands or maintain hygiene while undertaking different kinds of work. Based on the material used to make work gloves, or their different features, there can be many other uses for work gloves.
Types of work gloves
In this article we go through the types of safety work gloves including their materials and features so that you can choose the work gloves that suit your specific need.
General work gloves
There are various types of general work gloves, varying in yarn material, thickness, and fineness of weave. The main types are pure cotton gloves, special spun cotton gloves, and mixed spun cotton gloves.
Pure cotton gloves
Relatively strong and flame-resistant. Although they are a little rough, they are gentle to the skin and have good sweat absorption. Recommended for work involving a small amount of fire due to the material's resistance to heat.
Special spun cotton gloves
The most widely available product, mainly made of synthetic fibers such as polyester, and cotton-like yarn made from scraps of yarn. Not very durable. Inexpensive. Popular in Japan.
Mixed spun cotton gloves
Of better quality than special spun cotton gloves. Soft and durable.
| | | |
| --- | --- | --- |
| Pure cotton gloves | Mixed spun cotton gloves | Special spun cotton gloves |
A note on gauges, yarns and weight
Guages
Gauge indicates the density of needles on a knitting machine, and the number of needles per inch is called the gauge. The most common gauge is 7 gauge for ordinary cotton gloves. The larger the number, the finer the knitting.
Yarns
The number of yarns used to knit cotton gloves is often described as '2 knitting' with two yarns. The higher the number of threads used, the thicker and sturdier the handkerchief.
Weight
The heavier the 'mass,' the denser the yarn density, and the narrower the knitting pattern, the thicker and tougher the glove. The average weight is 600g per dozen for blended spinning gloves and 750g for pure cotton gloves, based on the weight per dozen.
Anti-Slip Gloves
These gloves are made by adding a non-slip effect to cotton gloves using rubber or other materials.
Non-slip (vinyl gloves)
These gloves have a non-slip surface made of natural rubber or PVC (polyvinyl chloride) on the palm of the glove. The grip strength differs depending on the material and shape of the non-slip part. They are more breathable than rubber-covered gloves.
Rubberized gloves
These gloves are made of cotton or cotton-blend gloves coated with rubber.
Rubberized gloves are made by dipping general gloves such as cotton gloves in a rubber solution. The thickness is slightly uneven, but they are soft and easy to use. It is strong, and the thickness can be specified, so you can choose according to their strength and so on.
Non-Slip work gloves

Non-slip (vinyl-butadiene)
work gloves

Rubber gloves
Leather gloves
These work gloves are made of cowhide or pigskin. Since natural leather is used as the material, the gloves gradually become more comfortable in the hand as they are used. They are soft and easy to use, and can be used for a variety of purposes from hard work to general work. They are resistant to fire and heat, and are used at sites where fire is handled, such as ironworking, or where heavy objects are handled by hand.
Leather gloves are made of natural leather (cow, pig, goat, sheep, etc.) as raw materials, so there may be individual differences in color and texture.
The strength of a leather gloves is determined by which part of the cow is used. Side or shoulder cut gloves are durable while belly cut gloves aren't as durable.
| | |
| --- | --- |
| Leather types | Features |
| oxhide leather | It is a slightly thicker material with excellent durability and heat resistance, making it suitable for welding work, etc. |
| cowhide | Fits the hand and is soft and comfortable to use. Excellent durability and tear resistance. |
| pigskin | Breathable and soft. Less expensive than cowhide. |
processing method

Features

Meri-kohl leather

The material used for the instep portion is made of merino fabric, which allows for good ventilation. Easy to grip and open. Not suitable for welding work.

inside seam

Stitches are on the inside of the glove, and threads are difficult to break even when exposed to fire, such as from welding.

Even if they are caught on something, they are hard to break.

cotton padding

The glove has the ability to absorb perspiration and prevent stickiness.

It retains heat and can be used as thermal protection in winter.

oiling

The leather is processed by infusing it with oil and does not harden easily after washing.

It is soft and comfortable in the hand from the beginning of use.
| | |
| --- | --- |
| Cowhide | Pig Leather |
Cut Resistant Gloves
These gloves are made of aramid fiber, which has outstanding cut resistance. Kevlar(R) is well-known. These gloves are widely used for preventing hazards in general use and for outdoor activities. New materials combining aramid fibers and hard materials have also been developed. Toyobo Dyneema, an ultra-high-strength polyethylene yarn, is suitable for use in clean rooms because of its low dust emission with minimal flaking.
About Cut Resistance Level (Indicates the evaluation value of cut resistance)

※ The cut level is a numerical result of the EU standard cut resistance test, expressed in 5 levels.
Cut Level 1 General work gloves
Cut Level 2 Showa Glove Chemistar Balm, etc.
Cut Level 3 Monotaro Thin cut-resistant gloves with non-slip surface, etc.
Cut Level 4 Monotaro Cut-resistant Kevlar gloves, etc.
Cut Level 5 ATOM cut-resistant gloves, Spectra gloves, etc.
Features of cut-resistant gloves by material
Aramid fibers (*Kevlar(R), Technora(R), etc. are trademarks. Included in aramid fibers)
Cut Resistance Level: 2 to 4
Advantages: Excellent heat resistance
Disadvantages: Susceptible to ultraviolet rays, prone to linting
Ultra high-strength polyethylene (*Dyneema, Spectra(R), etc. are trademarks. Included in ultra-high-strength polyethylene)
Cut resistance level: 2 to 4
Advantages: Excellent weather and chemical resistance, lint resistance
Disadvantages: weak against heat
Stainless steel wire + fiber, stainless steel mesh
Cut resistance level: 4-5
Advantage: High cut resistance strength
Demerit: Less flexible
Cut-resistant gloves

Antistatic gloves
These gloves are made of antistatic fibers and rubber, which suppress static electricity generation. They are used for inspection work on products that do not tolerate static electricity, assembly of parts, and electrical work.
Antistatic gloves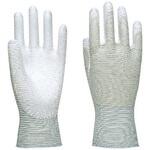 Quality Control/Smooth Gloves
Smooth gloves
These gloves are made mainly from 100% cotton fabric, and are characterized by their low level of stickiness. These gloves have excellent sweat absorbency and can be widely used in various applications and places. They are often used for packing, security, driving, etc., and as an inner layer for rubber gloves.
Nylon gloves
These gloves fit snugly on the hand and are used for quality control work, inspection, and as inner gloves. They are soft, breathable, and low-dust, with little fluffing. Ideal gloves for fine-tipped work. Finger tips and palms are coated, or processed for antistatic purposes (e.g., semiconductor factories).
What are gusseted and non gusseted gloves?
Non Gusseted gloves

Quality control gloves, nylon gloves


Cotton and smooth gloves

What are gusseted and non gusseted gloves?

Non Gusseted gloves

Two pieces of fabric are sewn together. Low price due to fewer sewn parts.

Gusseted gloves

A cross section is made by sewing an additional piece of fabric between the palm and the back of the hand to create thickness. It is three-dimensional and fits tightly to the hand.
Dust-Proof Gloves
These gloves are made of nylon or other materials that do not attract dust. They are used for assembling electronic components, inspection work, and precision work.
Dust-Proof Gloves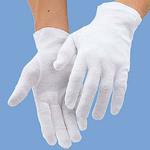 Heat and fire resistant gloves
These gloves are used in workplaces where fire or high temperatures are present. They are designed to protect hands from radiant heat when working in front of a furnace. Heat-resistant materials such as silicone, aluminum, aramid fiber, and Zylon are used. The heat resistance temperature differs depending on the product, so please choose the one that best suits your application. The heat-resistant temperature is only a guide and not a guaranteed value, so please use with caution depending on the environment and intended use.
Heat-resistant, fireproof gloves

Disposable Gloves
Thin, disposable gloves. The materials used are mainly natural rubber, polyethylene, vinyl, nitrile, etc., and there are a variety of products depending on the application. For details on the strength and suitability of each material for different applications, please refer to 'Work Glove Materials. Most are sold in small boxes of 100 gloves for both left and right hand use.
There are non-powdered (powder-free) and powdered (powdered) types. Powdered gloves are easy to take off and remove, while powder-free gloves are hygienic because they are powder-free. Powdered products are mainly made of cornstarch, but since the main ingredient is protein, the powderless type is recommended for those who are allergic to protein.
| | | |
| --- | --- | --- |
| Nitrile | Polyethylene gloves | Polypropylene gloves |
| Polyolefin gloves | Vinyl chloride gloves | Natural rubber gloves |
Gloves with arm covers
Gloves with arm covers combined with gloves. The arm covers extend to the shoulders to prevent the arms from getting wet or dirty. These gloves are used in a wide variety of work such as fisheries, agriculture, and industry. The integrated design prevents water from seeping through the joints, making them convenient.
Gloves with arm covers

Inner gloves
These gloves are worn under work gloves such as rubber or leather gloves. They are used to protect the hands and prevent them from becoming clammy or sticky. Also called under gloves. There are also types with cut-off fingertips. Cotton smoothing is sometimes used as a substitute.
Wearing inner gloves has the following advantages. At first glance, they may seem plain and not very useful, but they have the following effects and can actually be considered essential equipment for work.
Countermeasure against sweaty hands

Prevents stickiness, irritation, and skin irritation caused by sweaty hands

Countermeasure against impurities

Wearing inner gloves prevents impurities contained in hand sweat from permeating through the gloves. These gloves are useful in semiconductor factories and other workplaces where impurities can adversely affect product quality.
Inner gloves

Inner gloves are easily soiled by direct contact with skin and sweat, so it is more convenient to use washable and reusable types. For work requiring delicate finger feeling, fingertip-cut type gloves may be used. Cotton smoothing can also be used as a substitute.