This article will introduce how to select a steel rack suitable for your use. Commercial steel racks are available in several shapes and can be used to store a variety of items, including office supplies, tools, and logistics products.
What is a steel rack?
Steel racks are shelves made mainly of an alloy material of iron mixed with carbon. It is characterized by its resistance to scratches, hardness, and durability. In addition, since it is painted, it is also resistant to rust.
The supporting columns have multiple holes, and the shelves can be fixed to the designated positions with bolts. The width of the shelf tiers can be adjusted according to the items to be stored, and shelves can be added later, so the great advantage of this product is that it can be used in a customizable manner according to the purpose.
It is suitable for storing a variety of items, including office documents and files, parts, tools, materials, luggage, and products. Therefore, they can be used in many places, including offices, store backyards, distribution warehouses, and factories, etc as industrial shelves and shelves for warehouses.
Types of steel racks and how to choose them
There are many types of steel racks, so it is essential to select one according to the purpose of use, installation location, and weight of stored items, etc. Here, we will look at the types of steel racks and how to select them.
Select by shape
Steel racks have several shapes as shown below. Let's learn the characteristics of each and choose according to the use.
Light/medium load shelf/heavy load shelf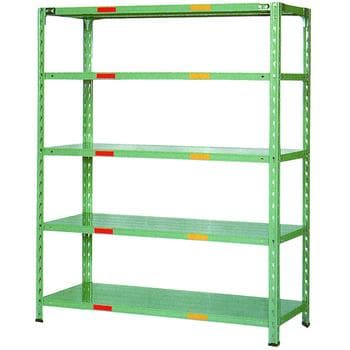 There is a very wide range of sizes, from small to large types. This makes it easy to select the size that best fits the installation space. Another feature of these shelves is that they can be installed in spaces where there are gaps and can be used effectively.
Rack with casters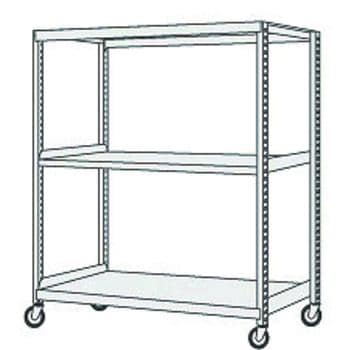 The major advantage of this type of rack is that it is equipped with casters and can be easily moved. In the case of factories where the layout needs to be changed frequently, it can be used according to the space each time, so it is convenient to use.
In addition, the rack can be moved to clean the floor, making it suitable for use in restaurants.
Sliding rack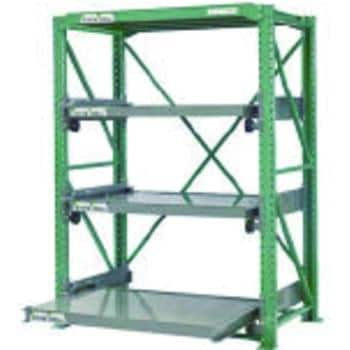 These racks have shelves that slide forward or backward. They are suitable for storing heavy items, and by sliding the shelf board, even heavy items can be easily taken in and out.
Some racks can lock the sliding shelves in a fixed position, while others are equipped with safety devices to prevent tipping or tipping over, making them safe to use without becoming unstable.
Pallet rack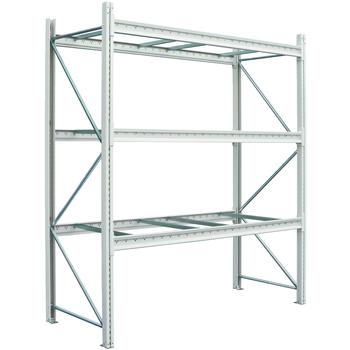 These racks are suitable for storing goods on pallets, and are used in large warehouses and distribution centers.
Size should be determined according to the size and height of the warehouse, fork list specifications, and the amount of cargo to be stored.
Storing goods on pallets flat on the floor increases the risk of them falling, but storing goods on pallet racks reduces the risk of them falling or being damaged.
Sorting rack
This type of rack is suitable for storing small items such as stationery, parts, documents, and other small items by type. There are also types with drawers and with stoppers to prevent items from falling out of them.
Perforated panel rack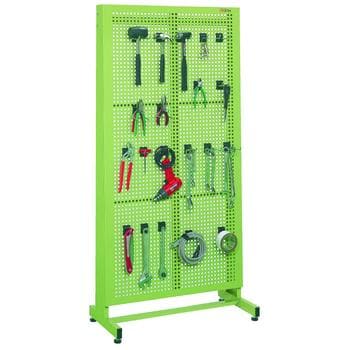 This is a type of rack in which hooks are attached to perforated panels with holes for storage. The perforated panel has numerous holes, so you can hang hooks anywhere you like.
Although it can be used for multiple purposes, it is recommended for storing tools, etc., as you can check what you are storing at a glance.
Select by load capacity
Each steel rack has a load capacity value. Therefore, choose one based on the weight of the items to be stored. Depending on the load capacity per shelf, they are classified into 'light weight shelf', 'medium load shelf', and 'heavy load shelf'.
Light load shelves have a load capacity of 120 kg to 150 kg and are suitable for storing parts, tools, document stock, lightweight equipment, appliances, cooking utensils, etc.
Medium-lightweight shelves have a load capacity of approximately 200 kg to 300 kg and are recommended for storing items with some weight, such as machine parts, large tools, large quantities of parts and products. They are mainly used in warehouses and factories.
Finally, heavy load shelves have a load capacity of about 1000 kg to 2000 kg and are ideal for storing large amounts of goods in a large space, such as a large warehouse or distribution center.
Exceeding the load capacity may cause the racks to tilt or break. Make sure you have a clear understanding of the type and amount of goods to be stored, and check the load capacity before selecting the right rack.
Summary
Steel racks can be used in various places such as offices, stores, and warehouses. There are several shapes available, so make sure to choose a suitable one according to the type of stored items and space. In addition, to avoid overloading, be sure to check the load capacity.