A step stool is a support platform used for reaching heights up to a certain level. Typically, it has a wide, stable top. It may have a frame around the top for extra stability. They are used on many job sites. However, using a step stool that does not match the height or using it incorrectly can cause unexpected accidents. This article explains how to choose an appropriate step stool and how to use it efficiently.
What is the proper height for a step stool?
Step stools normally have a top height of less than 80cm and a top that is wide enough to be safely stood on. Even if the height is more than 80cm, it can be called a step stool if it has an upper frame (a frame to stabilize the body).
There are different types of step stools including lightweight and heavy-duty versions.
Lightweight folding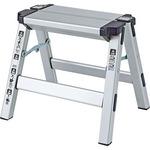 Heavy-duty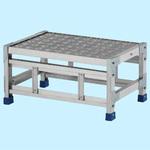 With upper frame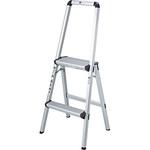 A step stool is not just for reaching the desired height. It is necessary to choose the appropriate height and type of step stool according to the height of the place where it will be used so that you can work safely.
How to find the proper height of a step stool
Height of work area - height (or slightly taller)
For example, if the height of the person using the stool is 170cm tall and wants to work at a height of 220cm, a step stool with at least 50cm in height is best to use.
Choose a height that allows you to work comfortably and in a stable position when on the top board. Do not make the mistake of working while standing tall on the top board. Having several units will allow you to work at various heights.
In addition to height, it is a good idea to choose the type according to the purpose and use. For construction sites or for electrical and plumbing work, it is recommended to use a heavy and sturdy step stool or step stool with an upper frame. In addition, a step stool with a wide top board provides stability, so it is best used when working for a long period of time. If it will not be used often, it is better to choose one that is easy to fold, easy to store, and lightweight.
Proper use of a step stools and precautions
How should a step stool be used? Here are the details on how to use it properly and some points to note for precautions.
1. Inspection
First, inspect the step stool before use. Visually check the top board and treads for oil, mud, or grease, bends or cracks, corrosion or cracks in joints, and loose bolts and nuts. Also, make sure that the treads and metal fittings do not rattle when you touch them, and that the opening stopper locks securely.
2. Installation
Avoid placing the stopper in front of a doorway or door, and place it in a stable, non-slip location. Make sure to lock the stopper securely by pressing down on it from above.
3. Use
Wear non-slip shoes such as athletic shoes when outdoors, and bare feet when indoors. Be sure to use the product with the elevating surface facing the work object. Be careful not to fall to the left or right of the elevating surface, as it can easily topple over. Be sure to stand in the center of the top board. The key is to stand with both legs slightly spread apart. Keep in mind that the body's center of gravity (navel position) should not protrude from the top board. If your work area becomes too far away from the work surface while you are working, get off and move the step stool instead of leaning forward.
Things to avoid
Standing on the edge of the top board. This may cause a loss of balance and may cause you to fall.
Standing on one leg or standing on tiptoe. Avoid this as it may cause you to fall.
Leaning over.Keep the center of your body weight inside the top board at all times.
Forcibly pushing or pulling a load. The recoil may cause the load to tip over or fall.
Using it while holding a large load. This can cause loss of balance easily.
4. Getting off the step stool
Be sure to ascend and descend towards the steps. If you turn your back to the step stool like going down a stairway, your body may wobble and you may fall or tumble down. When finished using the step stool, fold it up and keep it properly.
Summary
As you become accustomed to using a step stool, it is common for you to gradually forget the precautions and dangers in using it. Always remember the proper way of using the step stool. With the above as a guide, be sure to work with safety first to prevent accidents from occurring.