Hydraulic hoses are important components that use liquid fluid power for different levels of work. Since hydraulic systems are devices that control extremely high pressures, make sure to check the hose standards carefully to ensure safe operation. This article will introduce the method of measuring the length and pressure of hydraulic hoses, as well as tips for selecting a cap.
What is a hydraulic hose?
Hydraulic hoses play an important role in the piping of hydraulic machinery. Unlike metal pipes, which are usually made of stainless steel tubing, hydraulic hoses are flexible and can be used for smooth piping even in complex structures. However, due to their flexibility, hydraulic hoses may be damaged by chafing, breaking, twisting after continuous use. Regular checks are essential for safety.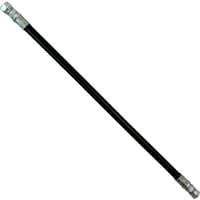 How to measure the length and pressure of hydraulic hoses
When selecting hydraulic hoses, there are several points to check in advance, such as length and endurance pressure. Let's take a look at the checkpoints.
Length
The length of a hydraulic hose is from the end of the base at one end to the end of the base at the other end. If the hose has a base at a curved angle to the hose, measure the length from the intersection of the centerline of the diameter of the hose and the centerline of the diameter of the base.
Pressure
In most cases, the specification pressure value is printed on the surface of the hose. The format varies depending on the manufacturer, so make sure that it matches the pressure of the machine to which it is to be installed.
Selection of hydraulic hose caps and plugs
The most important aspect of hydraulic hoses is the selection of the cap or plug. Selecting the proper hose cap will ensure effective operation of the hydraulic system.
There are three main types of hydraulic hose caps: male external screw caps, caps with female cap nuts, and flange-type caps. Three types of screws are used here: gas screws, which are commonly used in construction and industrial machinery; unified screws, which are commonly used in overseas machinery; and metric screws, which come in a variety of sizes and standards. When selecting a base, it is important to carefully check the standards for both the hose and the cap.
Summary
Hydraulic hoses are pipes used to properly deliver hydraulic fluid in hydraulic systems where large amounts of energy are used. Although often considered as an accessory part of the overall system, hydraulic hoses play an important role in controlling the hydraulic fluid, which is the heart of the hydraulic system, and they can withstand the high pressure of the hydraulic fluid. It is recommended that you select the appropriate hydraulic hoses so you are able to avoid accidents.