It is important to know how to select 'shelf brackets', 'shelf posts', or 'shelf supports' depending on the load capacity and materials to be used.
This article will introduce how to select the different types of shelf brackets that can be used effectively in saving space in your office.
What are shelf brackets?
Shelf brackets are fixtures that allow you to mount shelves directly on the wall. The most common type sold is a set of 'shelf support' and 'shelf post,' which can be attached to the wall and on which the shelf board is placed on them.
A shelf post is a long, thin column-shaped stainless steel material with a hole for inserting a shelf support. Shelf supports are often short bar-shaped parts to support shelves, and you can choose from a variety of materials such as aluminum, steel, stainless steel, and plastic depending on the material of the shelves and the weight of the items to be placed on the shelves.
There are also shelf support brackets such as 'L-type shelf support (triangular bracket)' which can be used independently as another tool to install movable shelves. It has a form similar to a larger shelf bracket, and is used by mounting it directly on a wall or other surface and placing a shelf board on it.
These types are popular at hardware stores and home centers. Some products are designed to give an antique atmosphere and are often used in store interiors and home improvement.
Below are the different types of shelf brackets that are effective space-savers and can be used to add storage spaces in home and office.
Selecting by type of shelf bracket
Shelf post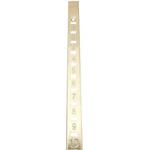 Shelf support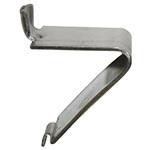 These shelf brackets are ideal for making effective use of interior space, as they allow you to freely create shelves by laying out shelf posts on the wall and placing shelves on them. Select the shelf posts based on the weight of the items to be placed on top of them. For particularly heavy items, choose products that are sturdy and made of stainless steel and have a durable structure that can not be easily deformed.
The basic method of selecting shelf supports is to choose the size according to the depth of the shelves. The deeper the shelf, the more stable it is, but the more it protrudes from the wall, the more it must be installed in consideration.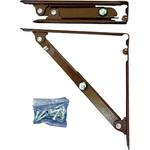 From a space-saving point of view, 'folding shelf brackets' are convenient. Shelves can be placed only when necessary, and when not needed, the shelves can be removed and the shelf brackets can be folded down.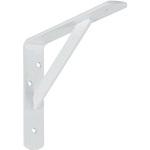 When placing heavy items on the shelf, it is recommended to choose a shelf support with a brace. The back side is supported with a reinforcing plate, making it ideal to use for heavy weights.
Selecting by material
Resin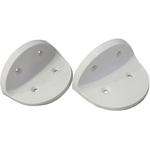 Aluminum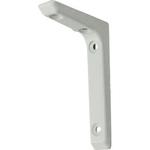 The load capacity of shelf brackets depends on the type of material and the item to be placed on the shelf. While wood or plastic shelf brackets may be sufficient for lightweight items, brackets made of steel are ideal for heavy items to prevent damage to the shelf boards.
If the shelf is to be installed in a wet or humid place such as a bathroom or toilet, it is recommended to use shelf brackets that are made of stainless steel or aluminum, which are resistant to rust.
The materials required for shelf brackets vary depending on the application. There is a wide variety of shelf brackets to choose from, including aluminum, steel, stainless steel, zinc alloy, wood, resin, and brass.
Selecting by load capacity
Shelf support brackets can be bought in a wide range of load capacities from 1kg to 100kg.
Shelf brackets for office use are available with even higher load capacity, and some can support an even load capacity of up to 450kg per shelf.
There are also load-bearing capacities that range from 4kg to 10kg, 20kg to 60kg, and other load-bearing capacities that are subdivided according to the application.
When considering the load capacity, it is also necessary to take into account the load on the wall to which the shelf posts will be attached. It is recommended to consult with the dealer or manufacturer before purchasing.
Summary
Shelf supports are space-saving products that can be used in a variety of locations, including offices and stores. Since different types are available, it is best to know how to select the most appropriate shelf bracket by considering the load capacity and mounting location.