There are various types of joints and connectors or fittings used for piping in water-related equipment. These may vary depending on the shapes and materials. This article will introduce fittings used in the plumbing industry and the different criteria by which you can select them.
What is a pipe fitting or pipe joint?
Pipe fittings or pipe joints are components used for connecting pipes or adapting them for various uses. By using pipe fittings, it is possible to change the direction of pipes, change the size of pipes, and merge or branch pipes. In addition, there are other types of joints, such as screwed joints, welded joints, etc.
Selecting a pipe joint
There are different ways of choosing a pipe joint based on the type, their function and purpose. Let us take a look at them in more detail.
Choose by type Elbow
For connecting external threads with a 90° bend


Bushing
For connecting external and internal threads of different diameters


Increaser / Reducer
For connecting two pipes of different diameters


Street elbows
For connecting an external thread and an internal thread with a 90° bend


Caps
As an end cap for an external thread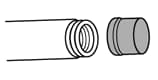 Coupling
For straight connection of two pipes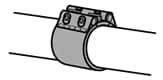 T-shaped joint
For connecting two t-shaped external threads


Plug
As an end plug for an internal thread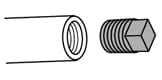 Flange
As a pipe-to-pipe joint


Cross
For connecting external threads that branch out in four directions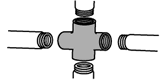 Socket
For connecting two external threads


Sanitary
For pipe-to-pipe connections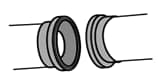 Union
For connecting external threads in the middle of piping


Nipple
For connecting internal threads


Expansion joints
For absorbing thermal expansion and contraction in piping


Choose by purpose
Change the direction of flow
An elbow is an L-shaped joint used to connect pipes that are oriented in different directions.
Those with a large bending radius such as 45°, 90°, 180° are called vents.
They are used at right angles to the edge of floors and ceilings.
Change the size and length of the pipe
An increaser/reducer is a joint for connecting two pipes of different diameters.
Two can be connected in series if one cannot be changed. Also, when you want to add lengths of straight pipes of the same diameter, you can use sockets to connect the pipes together.
Create a branch or confluence of flows
T-shaped joints are used to make T-shaped branches. Y-shaped laterals with low head loss, such as those where the mother pipe and branch pipe are the same diameter or where the branch pipe is smaller in diameter.
Choose by how to connect
Threaded type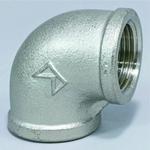 Since the joint itself is threaded, it is not completely fixed by welding or other means, making it easy to repair and maintain. When piping is used, the threads will be cut with a threading machine.
In addition, there is also a method of joining by sandwiching with a union nut or union thread.
Welding
Various sizes and shapes are available. There are three types: black joints, white joints, and stainless steel joints. Black joints are not plated and used for steam and drain piping. White joints are chamfered (beveled). Stainless steel joints are acid-resistant and rust-resistant. There are two types of welding methods: butt welding and insertion welding.
Flange
The ends face each other with a flange (flange collar) and are connected with a bolt and nut with a gasket in between.
Shrink-welding type
A part of the pipe joint wedges into the pipe to seal against disconnection.
Choose by size
The outside diameter of a pipe, such as a steel pipe, is a bit more complicated because the dimensions they call do not directly represent the inside or outside diameter of the pipe. This is due in part to the fact that the Japanese piping dimension system is influenced by the United States. 'Normal diameter' is used for the O.D. dimension of piping. In addition, JIS and ANSI piping have the same nominal diameter (nominal bore size) but different outer diameter sizes.
Nominal diameter (A nominal, B nominal)
Size

Dimensions

A Nominal diameter

(mm)

B nominal diameter

(inch)

Coupling O.D.

(mm)

Flange O.D.

(mm)

Pipe O.D.

(mm)

8A

1/4B

13.8

13.4

13.8

10A

3/8B

17.3

17.8

17.3

15A

1/2B

21.7

22.2

21.7

20A

3/4B

27.2

27.7

27.2

25A

1B

34.0

34.5

34.0

32A

1-1/4B

42.7

43.2

42.7

40A

1-1/2B

48.6

49.1

48.6

50A

2B

60.5

61.1

60.5

65A

2-1/2B

76.3

77.1

76.3

80A

3B

89.1

90.0

89.1

90A

3-1/2B

101.6

102.6

101.6

100A

4B

114.3

115.4

114.3
*Butt joints directly connected to pipes have the same O.D. as the pipe O.D.
*The outer diameter of the flange of the insertion type directly connected to the pipe is slightly smaller than the pipe outer diameter.
Choose by material
White joints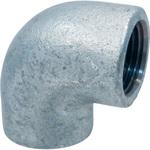 This is an environmentally friendly type with a surface finish, hot dip galvanized, and cadmium- and lead-free. Applicable fluids are gray water, industrial water, cold and hot water, cooling water, digestion water, gas, air, and oil. Hot dip galvanizing is a method of covering the surface with a zinc coating by melting zinc at high temperature and immersing the joint body. This coating is effective in preventing rust and corrosion.
Black joints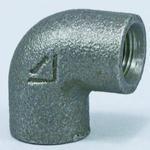 Cast-iron fittings are made of black core malleable cast iron. After casting, the excess parts created in the manufacturing process, such as the hot-metal opening and the push-fit, will be removed to finish the casting process. Unlike white joints, which are plated, the surface is not treated. Black joints are used for cold and hot water, cooling water, digestion water, steam, gas, air, and oil.
Epoxy resin coating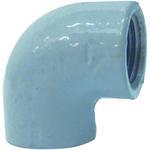 Resin coated joints must be used at temperatures below 40°C. Applicable fluid names of coated products are gray water, industrial water, cold and hot water, cooling water, and digestion water, and they are suitable for passing water.


| | |
| --- | --- |
| Fluid state | Maximum working pressure MPa |
| Steam, air, gases and oil up to 300°C | 1 |
| Static water up to 120°C | 2.5 |
Type

Surface treatment

Grey water

Industrial
water

Cold and
hot water

Cooling
water

Fire water

Steam

Gas

Air

Oil

Black
joint

Without (cast)

-

-

○

○

○

○

○

○

○

White
joint

With (hot dip galvanized)

○

○

○

○

○

-

○

○

○
Summary
Use piping joints that conform to JIS standards, and utilize them correctly according to the temperature of the fluid and the location where the piping is installed.