Metal materials are highly versatile not only in industry and construction, but also in everyday life. Metal materials are used not only for furniture and home appliances, but also for small DIY and hobbies, and are now much more familiar to us than ever before. This article will explain the types of metal materials and how to select them so that the general public, as well as companies and factories that handle metal materials, can easily understand them.
What are metal materials?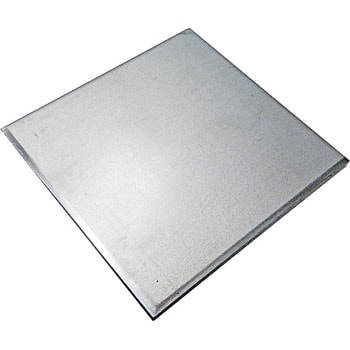 Metals are used as raw materials for various metal products and parts, and their composition, strength, etc. are determined in detail by the Japanese Industrial Standards. In order to subdivide each metal material, they are distinguished by using an alphabet that represents the metal or product standard and a material symbol with a number that indicates the type and content. For example, iron containing 0.50% carbon is represented by S for steel, 50 for 0.50%, and C for carbon as S50C.
Types of metal materials and how to select them
To select a metal material, first choose the material you need, and then choose the thickness that matches the part where you want to use it.
Select by material
There are various types of metal materials used as raw materials for processed products made of metal, and they differ in characteristics such as ease of processing and changes in properties due to heat treatment.
Iron (steel)
Steel is the most versatile metal material with excellent workability and easy welding. SS400 is inexpensive and contains a little carbon, so it is not expected to have strength when quenched, while S50C can be expected to increase in strength through quenching.
Special steel
Special steels often used for tools include SK3, which is easy to heat treat, SKS3, which has excellent wear resistance and machinability, SKH51, which has excellent toughness, and SKD11, which is less deformed after heat treatment.
Prehardened steel
Prehardened steels are used in molds for plastic molding. There are DC53 with excellent strength, wear resistance, and non-cutting properties, PXA30 with excellent weldability, NAK55 with little distortion, and NAK80 with excellent mirror polishing properties.
Aluminum
Aluminum has high electrical conductivity and excellent thermal conductivity. Duralumin with excellent machinability and extra duralumin with high strength are also classified as aluminum alloys.
Stainless steel
There are SUS304, which has excellent corrosion resistance and weldability and does not react to magnetic force, and SUS303, which has high workability but slightly lower corrosion resistance.
Gunmetal
An alloy consisting of copper, zinc, lead, and tin, it has high pressure resistance, wear resistance and machinability.
Copper
Tough pitch copper with a purity of 99.9% or more is available, specializing in corrosion resistance and weather resistance.
Brass
Brass, often used in wiring devices, is an alloy of copper and zinc and is represented by the material symbol C2801.
Titanium
Titanium has excellent strength and workability. It is used in a wide range of applications, including heat exchangers, tableware, and decorative items.
Select by thickness
In general, as the thickness of a metal material increases, it becomes more difficult to process, but its strength increases. In the case of a cutting iron plate, a thickness of around 5 mm can support the standard weight of a Japanese male (67 kg). For stainless steel, a thickness of about 7 mm is required, and for aluminum, a thickness of about 20 mm is required. The strength varies greatly depending on the material.
Select by processing method
Metal materials are sometimes selected by processing method. Processing methods can be broadly divided into turning, in which the material metal is rotated, and milling, in which the material is fixed and a tool is rotated. Lathe machining is the representative of the former, and milling machining is the representative method of the latter.
Lathe machining
Lathe machining is a turning process in which a rotating material is turned by applying a rotating tool called a 'bite' to the material.
Milling machining
This is a processing method that can perform complex operations such as drilling and groove cutting as well as the surface of the object. There are general-purpose milling machines, NC milling machines, and machining centers, each of which has its own specialties.
Select by cutting method
There are several methods for cutting metal materials, such as laser cutting machines and wire cutting.
Laser processing
Cutting is performed by laser beam. It is possible to process and cut metals that cannot be cut by conventional means. However, cutting with a laser beam takes time because the beam is applied slowly. There are disadvantages such as the thickness of the material that can be cut is shorter than that of wire cutting.
Wire cutting
In wire cutting, the material is submerged in water and an electric current is passed through it to generate an electrical discharge explosion, which melts the object while cutting it. The temperature generated during cutting can reach as high as 7,000 degrees Celsius, but it can handle any metal as long as it is a conductive material. In addition, the cutting process is also highly precise, with a margin of error of 0.005 mm. Also, since cutting is done by melting with the power of heat, burrs do not appear, and complex shapes can be handled.
Summary
There are various metal materials according to their properties and hardness, which are subdivided according to the Japanese Industrial Standards. To select a metal material, it is advisable to select by the material, thickness, processing method, and cutting method, depending on the purpose and application.