Copy paper is used on a regular basis, but most may be unaware of its types and uses. In this article, we will explain the different types and characteristics of copy paper and how they can be selected.
What is copy paper?
Copy paper is known as plain paper or PPC paper. Among them, there are different types such as fine paper with a very white surface and recycled paper with a slightly darker surface. Surface-treated processed paper includes glossy paper and matte paper.
How to choose copy paper
One way to choose copy paper is based on the type of paper.
Non-processed paper
Processing: No surface treatment
Applications: Inkjet printers, laser printers
Caution: Proper storage location is required as it is sensitive to moisture.


Plain paper
PPC stands for Plain Paper Copier, which translates to plain paper copier.
High-quality paper
This paper has a chemical pulp content of 100%. It is used in inkjet printers, laser printers, and fax machines. It produces good quality when used in normal printing, but it is not suitable for photo printing due to ink blurring.
Recycled paper
Although the paper whiteness of copy paper is lesser than that of fine paper with 100% chemical pulp content, an increasing number of companies are using recycled paper from the standpoint of choosing environmentally friendly products.
Coated paper
Finishing: Glossy surface, etc.
Applications: Printing of photographs, pictures, etc.
Note: Higher price than non-processed paper.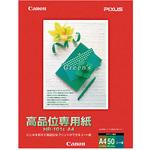 Glossy paper
Gloss-coated paper. It is mainly used for printing photographs. It cannot be used in laser printers because the surface gloss may melt.
Matte paper
The gloss level is low because of its matte coating. This makes for a soft finish and is widely used for postcards and photographs.
Coated paper
The surface of the paper is coated with a coating agent and processed by a machine to make it uniform, resulting in a smooth and glossy surface. Coated paper is recommended when high printing quality is required, as it enables printing of highly saturated colors, such as photographs, and looks good. It is often used for commercial printing.
Selecting by whiteness
The whiteness of paper is measured on a scale of 0% to 100%, with a higher number indicating a higher degree of whiteness. General copy paper typically falls somewhere between 80% and 95% on the scale, while low-whiteness newsprint is usually around 55%. Recycled paper, which is environmentally friendly and bears the Eco Mark, has a whiteness of approximately 70%. However, the whiteness of recycled paper is typically lower than that of general copy paper, as the whiteness decreases when the paper is recycled more.
Selecting by basis weight
Basis weight is a unit of measure for the weight of paper. It is determined by the thickness of the paper and is expressed in grams per square meter. General copy paper has a basis weight of 64 to 68 g/m2.
The basis weight of general copy paper is 64 to 68 g/m2. The higher the basis weight value, the stronger the paper.
Paper thickness refers to the thickness of the paper, and is typically expressed in mm or microns. However, in the printing industry, weight is generally used instead of thickness, with 'kg' being used instead of 'mm'. This weight is called the continuous weight, and is usually based on a stack of 1,000 sheets. The thicker the stack, the thicker the paper. There are several standard sizes for printing paper, but thickness is often expressed using the 46 notation.
Selecting by size
A series
A size standard that originated in Germany. International standard called 'ISO 216' that defines paper sizes around the world.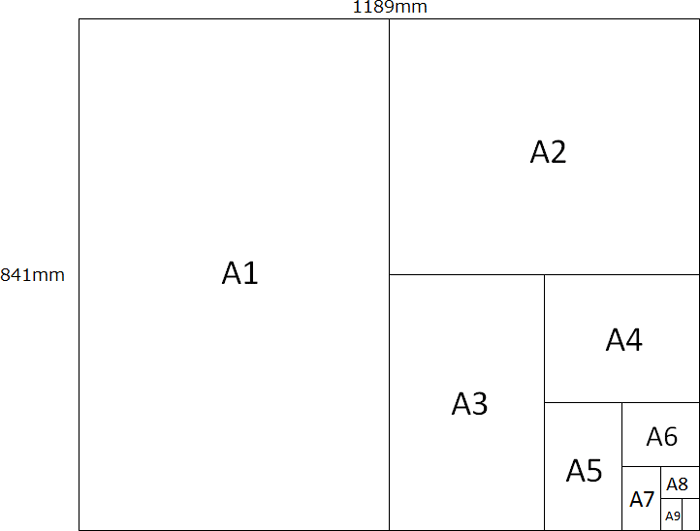 A0(A times)
841mm x 1189mm
Posters and CAD drawings for learning purposes
A1 (A full size)
594mm x 841mm
General posters
A2
420mm x 594mm
Posters and wall calendars
A3
297mm x 420mm
Brochures and restaurant menus
A4
210mm x 297mm
Most popular size used in Japan for copy paper.
A5
148mm x 210mm
Delivery notes or order forms
A6
105mm x 148mm
Paperback books
B series (printing)
B series paper size originates from ancient Japanese standard measurements. It is a domestic standard based on the official Mino paper during the Edo period (1603-1868). It is also used in China and Taiwan, but note that it is not compatible with the international standard, B-print.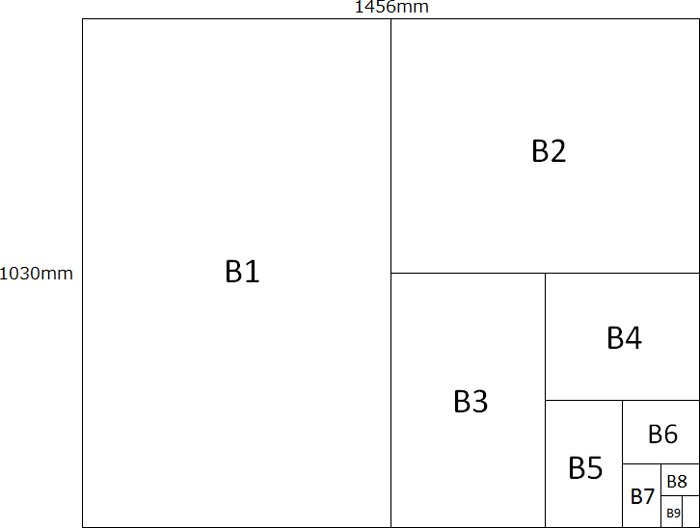 B0(B times)
1030mm x 1456mm
Station posters
B1 (B full)
728mm x 1030mm
Map posters
B2
515mm x 728mm
Calendars
B3
364mm x 515mm
Train advertisements
B4
257mm x 364mm
Newspaper inserts
B5
182mm x 257mm
Dictionaries, textbooks, notebooks
B6
128mm x 182mm
Books
Summary
Knowing how to select copy paper not only by its size, but also by its type and use will provide you the best quality output when using paper while printing or copying.